You may be resuming work but, it does mean that the fun stops. I could argue that the Christmas holiday is not over – well, technically. Besides the holidays, whether you're a foreigner or a Nigerian looking to visit Lagos and have a fun time or relax, there are many fun places to hang out in Lagos and have a good experience.
See also: 12 top fashion tendencies of 2022
See the hangout places in Lagos below:
JJT Park (Johnson Jakande Tinubu Park)
Hi Impact Planet
The Orchid Bistro Café
Tinubu Square
Ikare Beach Resort
Whispering Palms
Lekki Conservation Centre
Rufus and Bee
The Tea Room
Freedom Park
JJT Park (Johnson Jakande Tinubu Park)
The JJT park is a picnic place you can go to with your friends and family. You will love the atmosphere, the artworks, the fountain, the waterfall. You will find flags of countries – so visitors from abroad feel welcome – and the status of the state's past heroes. It has grasses you can sit on and huts around. There is free Wi-Fi and a fabulous walkway. Go with your kids too as there are activities for them too. It has a free entrance, and you do not have to pay to use any facilities. It also borders one side onto Tinubu Square.
Location: by House of Assembly beside Lagos Secretariat, Alausa, Ikeja.
Hi Impact Planet

Hi-Impact Planet Amusement Park and Resort is a world-class theme park located just at the outskirt of Lagos, opposite Mountain Top University. The park boasts a mix of over 60 unique indoor and outdoor rides, games and attractions that breathes fun, luxury and pleasure in every inch. The park serves as the home of unlimited fun and excitement for Lagos, Ogun, Oyo and beyond.
Location: Kilometer 12, Lagos-Ibadan Expressway.
Orchid Bistro Café
The Orchid Bistro Café is a fine dining restaurant and café with a beautiful orchid garden consisting of some of the most exotic plants you can find in Nigeria. The restaurant is filled with aesthetics that make you want to go back. The restaurant offers a wide variety of continental as well as Nigerian delicacies. If you are looking for a place to hang out for afternoon coffee or lunch break, go to the Orchid Bistro Café.
Location: 58a Isaac John St, GRA, Ikeja.
Tinubu Square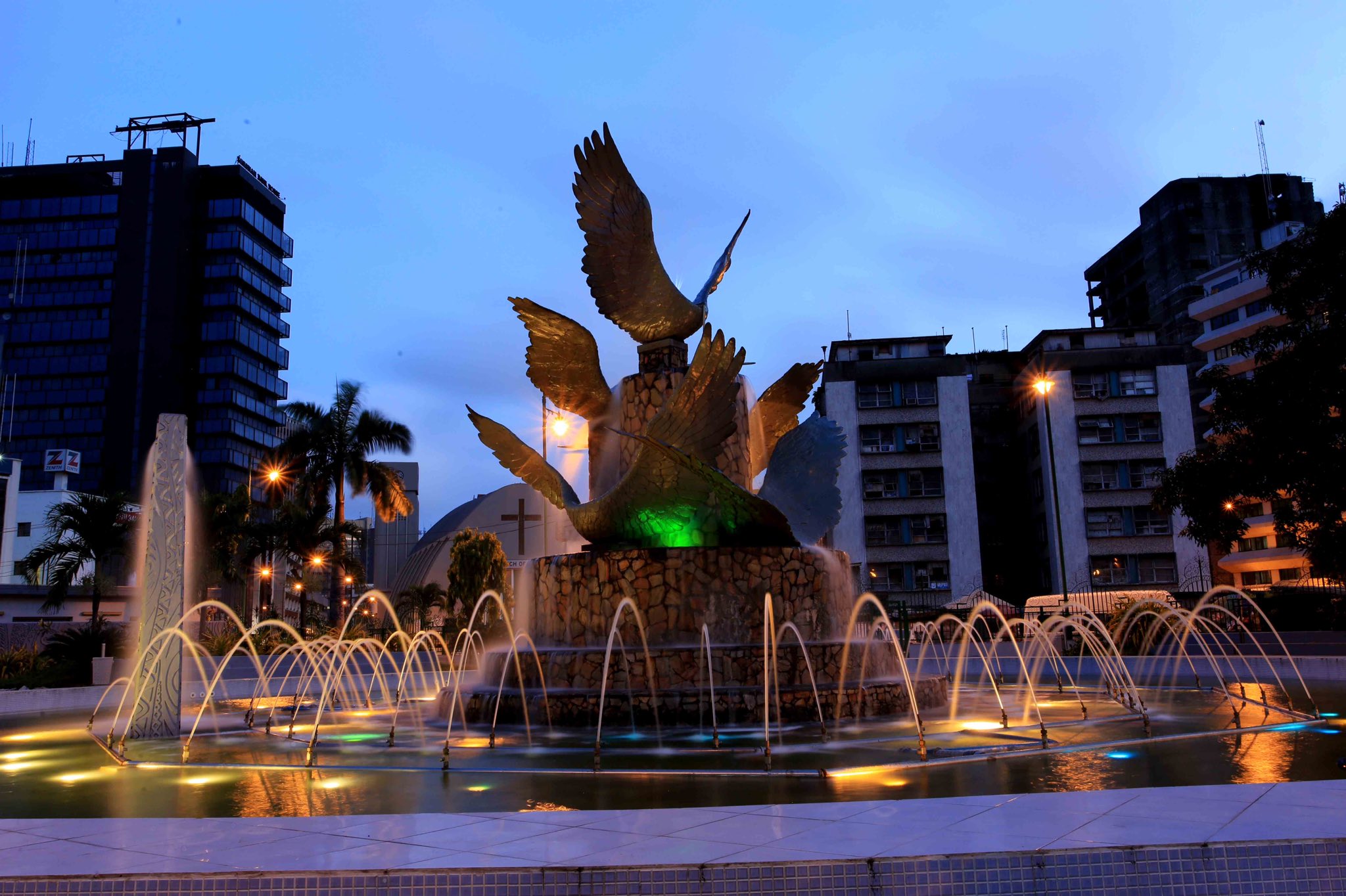 Tinubu Square (formerly Independence Square) is a 2000 square metre piece of land located in the heart of Lagos and the centre of the central business district and believed to have been donated to the British by Madam Tinubu, a wealthy businesswoman and activist. It used to be called Ita Tinubu before it was named Independence Square by leaders of the First Nigerian Republic after Nigerian independence and subsequently Tinubu Square. Tinubu Square has served as a recreational spot for relaxation and enjoyment since the garden was first built in 1960. The beauty of the artworks combined with the horticultural design of the flora will undoubtedly capture your attention.
Location: Broad St, Lagos Island.
Ikare Beach Resort
Kamp Ikare is a spectacular retreat facility and is a perfect getaway for friends, family, dates and corporate executives. It's private, accessible only by boat and has a main communal beach house with six duplex cabins positioned around a swimming pool, just metres from the sea.
Location: Ikare Village, Badagry.
Whispering Palms
Whispering Palms has beautiful scenery, a private zoo, talking parrots, and you could even get to see a squirrel chasing nuts. The coconuts! Have a taste of that and come back to thank us. There's a private island, perfect for team bonding and company retreats. At Whispering Palms, you can have fun rides, visit the museum, engage in indoor and outdoor games. Go there and experience it yourself.
Lekki Conservation Centre
Lekki Conservation Centre (LCC) is a 78-hectare (190-acre) Natural Resource Conservation in Lekki. The Centre was established in 1990 to serve as a biodiversity conservation icon and environment education centre. The Chevron Corporation built the facility for the Nigerian Conservation Foundation (NCF), as a reserved sanctuary for the rich flora and fauna of the Lekki Peninsula. It is a calm and quiet place, suitable for a perfect getaway. It is a good place for conservationists, but you may not see as many animals as you'd like because they typically hide in their natural habitats. And yes, there is a canopy walk, a treehouse and a playground with floorboard games.
Location: KM 19 Lekki – Epe Expessway, Lekki Penninsula II, Lekki.
Rufus and Bee
From classic snooker games to the contemporary Dance Revolution, a sports bar, bowling lanes and our American Tex-Mex Restaurant. With over 100 exciting games, Rufus & Bee provides the ultimate gaming experience for kids, adults, families and corporate teams. To access the games, you need to buy a buzz card which costs ₦1000 and then load it up with chips. The price for the chips ranges from ₦5000 for 55 chips to ₦30000 for 405 chips. Each game usually consumes between 4 – 8 chips.
Location: Off Remi Olowude road, Lekki second roundabout (by Lekki leisure/ ark event centre).
The Tea Room
The Tea Room has a unique poise and unique aesthetics that sends going back and again. The floral arrangements are breathtaking and often steal the show from the food. And yes, it has the perfect picture spots. The Tea Room has become one of the most snapped restaurants in Lagos. The Tea Room is designed to offer so much more in the form of its ambience and spirit. With the promise of an unforgettable experience, The Tea Room creates a picturesque space where every corner is picture-perfect, with an eclectic mix of vintage nick nacks and delightful scents. From the colour tones to the chandeliers dripping with flowery perfection, the bar setup to the settees and portraits, The Tea Room is rigged to set you at ease.
Location: off Wole Olateju Crescent, 6A Ogbunike Street, Lekki.
Freedom Park
Freedom Park is a memorial and leisure park. The Park was constructed to preserve the history and cultural heritage of Nigerians. Monuments in the park reveal the Lagos colonial heritage and history of Her Majesty's Broad Street prisons. It was built to commemorate the 50th-anniversary independence celebration in October 2010. The Park serves as a National Memorial, a Historical landmark, a Cultural site, Arts and Recreation centre. The park, which is now a serene abode for individuals, visitors' collective contemplation and interaction, is open to the public every day. Today, freedom park has become a venue for various social events and recreational entertainment.
Location: Old Prison Ground, Broad St, Lagos Island.