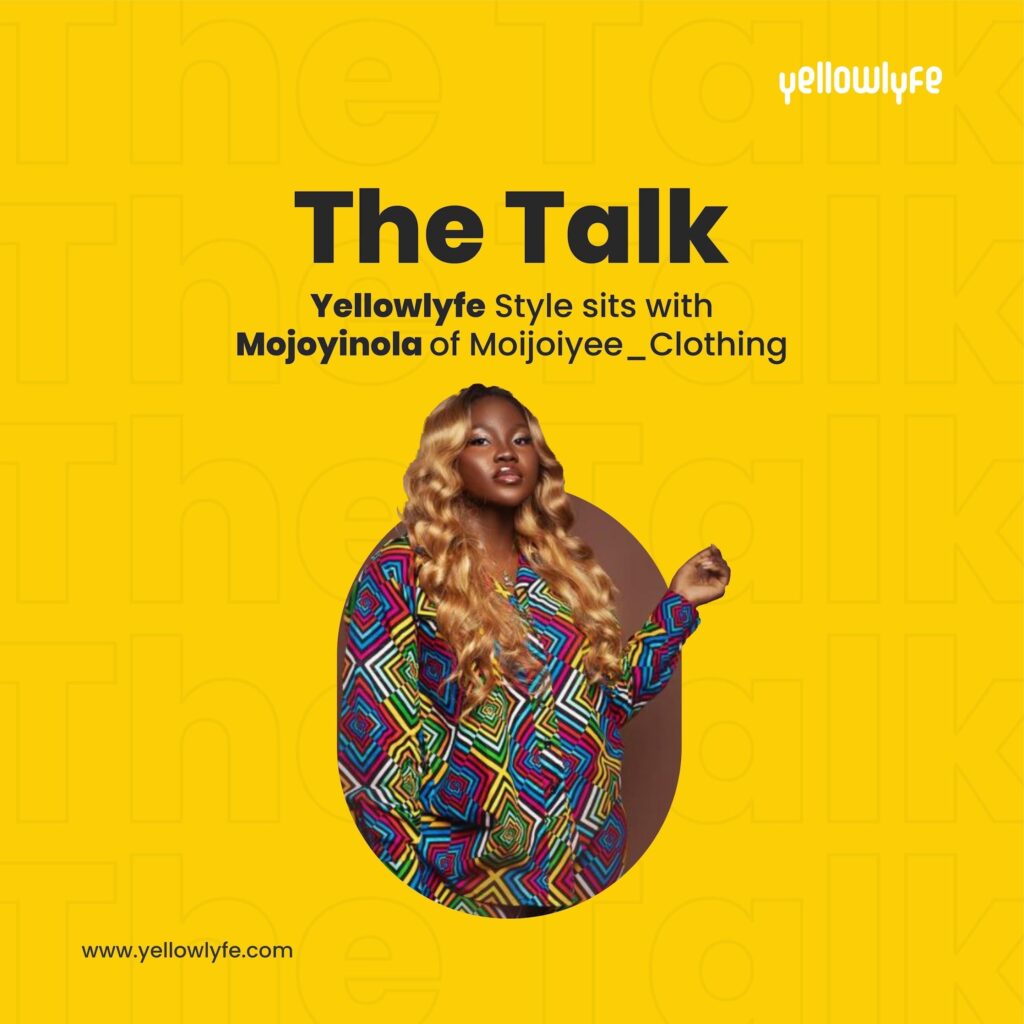 Mojoyinola Ojikutu is a fashion designer, an event planner and a part-time influencer and a student. She talks about her passion for fashion and designing, her inspiration and struggles. 
What inspired you to be a fashion designer?
It started when I was a lot younger. I loved to look nice whenever I went anywhere. My dad also made us love fashion. He attended a lot of events, took us along sometimes, and ensured that we dressed nicely.
I also had Gigi Clothier to look up to. She was my best friend's sister at the time, she was a designer and I loved her designs. She inspired me to be a designer and taught me a few things about designing before I finally decided to learn on my own.
When did you decide to start fashion designing professionally?
I don't have a specific date but I started when I was in JSS 2, and when I was in SS2/SS3, I started making clothes for people and getting paid but I was undercharging.
Tell us about school
I am a student at the University of Ibadan, I major in Sociology and I'm in my final year.
Has the name "Mojoiyee_clothing" always been the same or have you rebranded/had the chance to change it?
I'm always rebranding. For instance, I have different nylon bags. I could produce about 200 pieces of a particular bag now and in the next three months, I'm changing it but the name has always been the same. My package changes every time but the name is constant.
How have you been able to balance work-life, school and relationships?
It is quite simple. We all multitask, it is just people's preferences. I tell people that you can balance your school with work if you know how to mark it all out and you don't procrastinate. In the real sense, most people have so much free time. There are times that you would just be scrolling through your phone or WhatsApp status for hours without even knowing or walking around school hostels looking for movies. So in times like that when I'm free, I try to make the best use of it. I don't engage in stuff like that and that's how I balance school and work.
Are you in a relationship?
I would like to keep that private.
What inspires your designs?
It depends on my mood. I could think about making a top today and then I could mix it up with Aso Oke. Sometimes, I see some designs online and create my version of them. It won't look exactly the same but there would be an element of that design in it and my unique addition to it.
What drives you?
Umm… If I say passion first, I would be lying. I don't want to be poor in my life. So money is the number one motivation. I have a passion for it as well, so balancing both makes me consistent. I want my brand to be known for something different. If you look at my designs, you would realise that I have a niche, most of my designs are mixed with African prints; Kente, Tribal prints. That's why when I'm naming my designs, I name them after different African names; Ghanian, Kenyan and so on. Everything is basically just African.
Have you ever been stuck on a design?
Yes, I have. There are some designs that I have done and I didn't really like them. I would just look at the finished work and be like, "What is this?" I have loads of unfinished projects and some that I eventually finished but didn't like, however, others liked. So it's normal to have unfinished work.
For those you were really stuck on designing but eventually went back to, how long were you on it?
I can't really say basically, I don't time myself.
Any design(s) you kept going back to?
I was stuck in my Tomi tie top for a while. I was trying to make a tie top but the material wasn't enough. I had to make use of what I had at hand because it was during the COVID-19 period. The bop daddy challenge was on and I wanted to join other designers to do the passing scissors transition. I had to be creative by bringing one other material and it was quite creative. It is one of my bestsellers and people wouldn't know that it came out from nothing. The white I added to the Ankara was because the material was not enough and people actually liked it.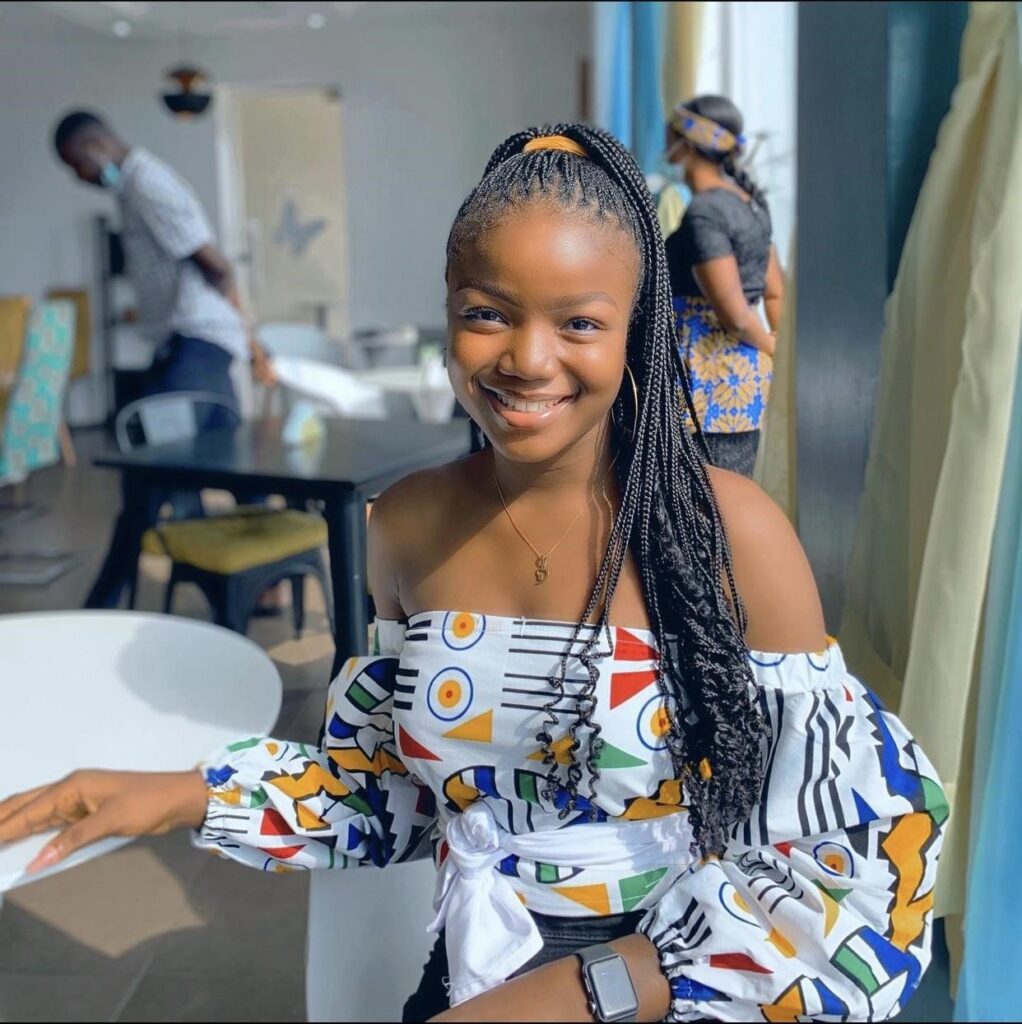 What do you do when you are tired?
I watch movies on Netflix, call people close to me, view people's status updates and so on. I also watch reels on Instagram. Like I said earlier, I am a selective influencer and I create content for my brand and the brands I'm influencing for. So I watch videos to get ideas and audio for my own content.
You do event planning, part-time influencing and fashion designing. So if you were not designing, would you be a full-time event planner or an influencer?
I feel everything is interwoven. My life is a lifestyle, I model for my brand and that's why people even approach me because they see that I'm good at what I do. Basically, I would like to do all of it. I see myself growing into a serial entrepreneur with time. When I have capital and I can employ more people to work with me, I feel like those are the three major things I'm going to focus on. All three go hand in hand.
What does the future look like to you?
I see myself as someone who is going to be in a better place than I am right now. By then, my capital would have increased. I see myself in a big place basically.
Since you started designing, what would you say has been a challenge for you?
First, it was capital and then the other is the fact that most people don't like putting on African print mixed products. They tend to say they don't wear Ankara or that they don't like wearing what other people are wearing but then these same set of people walk into stores and buy designer clothes. They can't buy my own limited designs but they would rather buy the big names.
Do you have a big dream?
I would love to see my designs on everyone but there is a particular person I would love to design an outfit for. Her name is Olarslim and she is a fashion designer as well. She is a very free person and I look up to her. She wears designs by other designers as well, so I would love for her to wear one of my designs.
Do you think there is a place for everyone in fashion and design?
It just depends on your creativity and if you are able to adjust to the pace at which the world is moving. Sometimes, I see some designers and I wish I could reach out to them and talk to them about some of their fabric choices and designs. But, we are all learning and that's probably their learning process.
Is there such a thing as innovation in the fashion industry or have all the ideas been explored?
I think everything is going round in circles. For instance, there was a time when corsets were just for people who used waist trainers but right now, it's a widely accepted trend. Someone brought it back and it came back as a trend, soon people would get tired of it and Oleku might just come back.
What advice would you give a person who wants to be a designer?
Start somewhere. My first sewing was really bad. I have had cases of what-you-ordered-versus-what-you-got but it's normal. You should just be prepared because every day isn't going to be a good day, it won't all be rosy. It's just life, we would always face challenges, how well you deal with it would determine how you would face the next ones. It would make you progress. Consistency is key.
How did you handle the bad situation you just mentioned?
I felt bad, I said I was never going to sew again. It was around the University of Ibadan fashion week period and I had a lot on my plate at the time. I was trying to sort out what the models would wear and I had a client who wanted to make clothes for her friends for her birthday party. I couldn't do it alone, I had to outsource some of them. The person that helped me out messed everything up. It wasn't made to my taste. The ones I made were perfect but the other ones were bad. I couldn't tell the client that I outsourced it, I had to take responsibility because it was my job and I should have done it myself. I felt bad that I ruined someone's birthday and I decided I wasn't going to sew anymore. However, a friend who knew one of the girls heard about it and texted me. He had seen my designs before and knew what I was capable of so he encouraged me not to give up because he knew I could do better than that. So right now, I don't take more jobs than I can handle.
Do you have mentees?
No, I don't. I am still a student but let's see how that goes. I am running an online business and we don't know what the future holds.
A business is an integrated process, it involves different processes, what part stresses you out the most or what don't you like?
The whole process of making the clothes?
How do you handle hiring your staff?
Well, it's really hard to get good designers so that's why it's just me and one other person that I really trust for now. The other person used to make a lot of mistakes as well and I would have to redo the work but with time the person got better. It wasn't easy at first but we are good now, the person is improving. When I leave school and I have enough capital, I would get some Senegalese tailors because they are really good but expensive.
---
The talk is a series of conversations with young people who are entrepreneurs in different fields and niches. We are talking about their passion, sources of inspiration, struggles and how they are making a name for themselves in the various industries that they have chosen, though all industries seem to be saturated and fully explored. The younger generation is taking over and we love to see it and talk about it.