COVID-19 must have made you change your mind completely on travelling the world and doing exploits. Great idea staying home and stopping the spread of a virus that reset and remade our lives. But, just because we aren't travelling as much as we'd like to right now, doesn't mean we can't experience our big, beautiful world.
For adventurers who have thought of wandering into the deep forest and African bushes to spot Lions, Buffalos, Elephants, Leopards, and other wild animals, then Nigeria's national parks can more than oblige.
Nigeria has seven national parks in total – Chad Basin, Cross River, Gashaka Gumti, Kainji Lake, Kamuku, Old Oyo and Yankari (often regarded as the best of the bunch). If your adventurers' spirit has yet left you, start preparing your trip, as April is one good time for wildlife viewing.
CHAD BASIN NATIONAL PARK
Address: Borno/Yobe, Nigeria.
The Chad Basin National Park is spread over a little more than 2,250 square kilometres/870 square miles and is made up of a number of distinct regions, such as the Bade Nguru Wetlands and the Chingurmi Duguma area. Visitor numbers tend to be fairly low since the animals here are considered relatively common and therefore rather unappealing to many.
CROSS RIVER NATIONAL PARK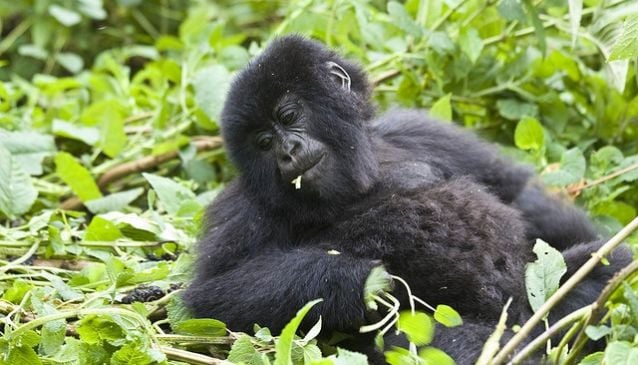 Address: Cross River, Nigeria.
The Cross River National Park is widely regarded as one of the richest areas of rainforest in West Africa. Created with the help of the World Wide Fund for Nature, the park is divided into two sections – the Oban Hills Division and the Okwangwo Division.
The Cross River is known for its numerous species of plants and birds and is also home to over three-quarters of the primate species that can be found in Nigeria. These include western gorillas and chimpanzees. Other wild animals found in the park include African forest elephants.
GASHAKA GUMTI NATIONAL PARK
Address: Adamawa/Taraba, Nigeria.
Created after the combining of two existing reserves in the early 1990s, the Gashaka Gumti National Park currently ranks as the country's biggest, covering a vast area of just over 6,400 square kilometres/2,470 square miles. The southern region comprises a particularly rugged and undulating terrain, being where you will find the Chappal Waddi – the tallest mountain in the whole of Nigeria, measuring at around 2,419 metres/7,936 feet in height. During the dry season, the Gashaka Gumti still sees a decent river flow, supporting an assortment of wildlife and some extremely colourful birds.
JOS WILDLIFE PARK
Address: Jos, Nigeria.
The park at Jos, often also called the Jesse Aruku Wildlife Park, is relatively small, covering just 8 square kilometres/3 square miles of land. Nevertheless, its wooded hills and forest streams make it an ideal place to spot many different sorts of animals and birds, including pigmy hippos, lions and buffalos. The well-kept facilities at the Jos Wildlife Park include picnic spots, a children's playground, a small museum and restaurant.
KAINJI LAKE NATIONAL PARK
Address: Wawa, Nigeria.
The Kainji Lake National Park can be found some 560 km/348 miles north of the city of Lagos and fairly near Nigeria's border with Benin. The park has two sectors, the Borgu Game Reserve and the Kigera Sector, both of which surround Kainji Lake.
Kainji is home to a rich variety of wildlife, such as baboons, hippos, hyenas and warthogs. There are plenty of activities to be found within the national park's boundaries, including boat cruises and wilderness treks.
KAMUKU NATIONAL PARK
Address: Kaduna, Nigeria.
Kamuku National Park has a 1,100 square kilometres/425 square miles space and is home to an archetypal Sudanian Savanna ecology and landscape, with large flat expanses sloping towards the easterly Birnin Gwari Ridge.
Here, you will find the Dogon Ruwa Waterfalls and the Tsaunin Rema hill, as well as the isolated Goron Dutse rocky outcrop, which boasts distinctive black and white patterns. Wildlife is in good supply at the Kamuku, with particular highlights including antelope, baboons, elephants, hartebeest, monkeys and secretary birds.
OKOMU FOREST RESERVE
Address: Edo, Nigeria.
Wildlife watching in the rainforests of Okomu throws up all sorts of opportunities. In particular, it gives visitors a chance to spot one of the world's rarest primates, the white-throated monkey. Despite its small enclosure, 118 sq kilometres, it has abundant flora and fauna resources with a very rich ecosystem that is very unique and distinct.
Okomu is the last surviving rainforest area in Southern Nigeria, making conservation in this part of the country more important than ever. The Okomu Wildlife Sanctuary is a forest block set within the 1,082 km² Okomu Forest Reserve, and situated about 60 km north-west of the city of Benin. Okomu is a home of forest elephants, buffaloes, red river hogs, chimpanzees, leopards, putty nosed guenon, porcupine, pangolins, duikers, antelopes etc.
OLD OYO NATIONAL PARK
Address: Southern Kwara/Northern Oyo, Nigeria.
Easily accessible and covering approximately 2,500 square kilometres/965 square miles, the Old Oyo National Park is home to a large number of bushbuck antelope and buffalos, together with countless bird species. Tourism is promoted in the surrounding tourist destinations of Igbeti, Igboho, Iseyin, Saki, Sepeteri and Tede, where many attractions await visitors.
You will find granite outcrops, large caves and several prominent rivers (Ogun, Owe, Owu and Tessi) in the park. The central area lends itself to mountaineering, while the Ikere Gorge Dam offers popular water-based recreation.
YANKARI NATIONAL PARK
Address: Bauchi, Nigeria.
Yankari first opened its gates to the public in 1962, but it wasn't until the early 1990s that it officially became a national park. Over the years, the park has become one of the most popular in Nigeria, attracting thousands of annual visitors.
The landscape includes woodland, rolling hills and savannah grassland. Animals that can be spotted include elephants, olive baboons, hippos, waterbuck, hartebeest and lions. Over 300 bird species also make Yankari their home, while the four thermal springs are an added visitor attraction. Facilities include Wikki Camp, a small museum and restaurant. The main entry point is in the village of Mainamaji, near Dindima.
Want to visit any or all of these places? We could help you fulfil your adventurous desires. Reach on Twitter, @yellowlyfe_, Instagram, @yellowlyfe, phone, +2348164630960.